Because of Covid-19, the world saw technology in a new way. With people having no choice but to shop online, digital commerce saw massive growth. New eCommerce technology trends emerged globally by the minute.
But the most impactful transformation was in how we shopped. Essential items and medical supplies were ordered online as businesses innovated to help the world cope with Covid.
A lot of companies shifted their business models to meet the need of the hour, and numerous changes were seen in the world of eCommerce. In this article, we list out our top 15 technological trends in the eCommerce industry that we think will shape the next, next normal.
The future of business is digital
Digital transformation has been underway for decades. But in 2020, the pandemic forced both consumers and businesses to adapt and evolve while staying indoors.
While Covid severely impacted our overall health and economy, the whole world tried to solve it at once. This sped up digital transformation and technologies by several years. It was almost as if a decade's worth of technology trends were accomplished overnight.
Society at large and the global consumer behavior can no longer be compared to how it used to be back in 2019. The changes made are going to carry forward into the future, especially – digital transformation.
As the vaccine made its way around the world, 2021 became the year of transition, a.k.a. 'The Next Normal'. This was a time when things were slowly normalizing, but the after-effects of covid seemed to open up new paths altogether.
A few tech trends phased out, but others became quite permanent. It was the beginning of a new era when employees continued working remotely, customers got accustomed to online shopping, and more companies adopted digitization of their processes and workflows.
The Covid pandemic period proves that being digital-first will enable businesses to stay relevant for a long time and reach their full potential!
Today, digital transformation is no longer the exception – it has become the norm.
One of the biggest impacts of the pandemic was the increased usage of mobile devices. People used laptops to work, and used phones and tablets when they took breaks.
The sharp shift to mobile and voice commerce
Besides staying connected, shopping on mobile commerce apps became almost unavoidable.
Worldwide, 48% more respondents of a Statista survey shopped using mobile websites during Covid-19 than before.
And so, we see new technology trends emerging in the post-COVID-19 world too.
Retail therapy to pass time
Among the fun uses of smartphones during the pandemic was retail therapy.
People indulge in shopping to enhance their moods, especially when they are under such high-stress levels as a result of the pandemic.
Bazaarvoice surveyed over 9,000 consumers worldwide and found that 54% enjoy "window shopping" online more than browsing in a store.
Mobile payments – a crowd favorite
Smartphones became a great way for people to make payments during the pandemic too.
Voice commerce
Voice shopping has also grown in popularity over the past few years. This is mainly because of its convenience, hands-free capabilities, and ability to search for items without navigating complex visual menus.
The Adobe Analytics team surveyed over 400 business decision-makers in 2019. The result?
91% of businesses are already making significant investments in voice, and
94% plan to increase their investment in the coming year.
Simultaneously, voice commands were a good option for those afraid of touching surfaces, making voice commerce adoption faster. Shopping through smart speakers like Amazon's Alexa also has become extremely popular during the pandemic.
By using voice assistants like Siri and Google Assistant, people can shop on their cellphones by simply saying what they want.
If this trend continues, voice shopping is likely to become the industry standard for exceptional user experiences.
IoT eCommerce
The Internet of Things (IoT) is a network of smart devices that can communicate with one another over the internet. The devices share information among themselves to facilitate eCommerce sales.
IoT can improve digital commerce from a consumer experience perspective. It can streamline processes for eCommerce sellers, such as supply chain efficiency, logistics, and inventory management.
Amazon has enabled Alexa on various IoT devices, like smart lighting, thermostats, smart switches, and smart refrigerators. This allows customers to interact with those devices conveniently.
By 2025, there will be over 75 billion Internet of Things (IoT) connected devices in use, nearly threefold increase in the installed base of IoT as of 2019. – Statista
The Internet of things has revolutionized the eCommerce business in many ways. It creates digital footprints that link products, customers, and processes to offer a highly-personalized customer experience.
The 5 most popular IoT applications in eCommerce
Using IoT for smart marketing
Marketers can use the information gathered from smartphones and smart home devices to improve customer engagement and personalize purchases.
If people's home appliances use excessive energy, businesses can share ads about their green models to help them save energy and money.
Customers can also buy products at home with voice commands. Alexa, for instance, lets shoppers know when their orders will be delivered after making a purchase.
Insurance companies now use IoT-based smart devices to track discounts for cautious drivers and raise premiums for reckless drivers who drive too fast.
IoT will enhance eCommerce as more devices get smarter and more connected. Making this technical trend less of a revolution and more of natural evolution.
Blockchain technology trends
Blockchain is much more than just cryptocurrencies.
Blockchain technology brings faster, cheaper processes with better security by making data open, anonymous, and unalterable.
Blockchain technology helps create secure and trusted information control mechanisms. It can act as online ledgers that record every transaction in a specific block.
Consider a traditional database. A blockchain is similar, except it doesn't store information in rows and columns – but bundles information into "blocks". The blocks and the contents within them are protected by powerful cryptography which can't be altered, copied or destroyed.
In this way, blockchain technology allows a digital currency to maintain a trusted transaction network without relying on a central authority. It is for this reason that digital currencies are thought of as "decentralized".
Since it is decentralized, a single node failure doesn't affect the entire network. The technology allows users to share and store digital assets safely.
Blockchain for payments
In terms of application, the payments segment dominated the market in 2021.
Expedia, Overstock, and Microsoft, as well as thousands of Shopify retailers, all accept bitcoin.
Blockchain transaction costs are also extremely low.
For example, the transaction fee for transferring 849,999.99939168 Ether (which is equal to $1,129,879,499.19) is only $0.19, compared to an average of 1.3% to 1.5% transaction costs for credit cards.
The blockchain technology trend in eCommerce offers merchants
Lower or no processing fees
No chargebacks
International access
A simple setup process
Broader market reach
Blockchain technology trends in different industries
You can use blockchain in any sector. As a way to make payments decentralized and unhackable, blockchain technology has become immensely popular in recent years.
The use of blockchain in digital commerce is more mainstream than you may think.
15,174 businesses worldwide accept bitcoin.
2,300 US businesses accept bitcoin.
Adoption of an Omnichannel business model
Omnichannel means fulfilling customers' needs at every touchpoint and providing the same functionality and experience across channels, no matter how a buyer chooses to interact.
According to McKinsey,
During Covid-19, 4 out of 5 shoppers tried out a new shopping trend (such as curbside pickup or buying through Instagram). Most people intend to maintain this behavior even after the pandemic ends.
60% to 70% are shopping in an omnichannel way, making social media the new window shopping.
At each step in the customer journey –discovery, research, purchase, support, customer service, returns, and building an ongoing relationship –companies must be attentive. This can be accomplished by omnichannel business models.
Simply put, omnichannel eCommerce is about meeting customers wherever they are and providing excellent service at every touchpoint.
In this way, customers can seamlessly switch between these channels without experiencing any disruptions.
Omnichannel selling is becoming an increasingly important strategy for eCommerce sellers as consumers' needs change. 74% of retailers have either started on their omnichannel strategy or have already implemented it.
The 'Buy Online and Pick Up In-Store (BOPIS)' shopping model
McKinsey reported that people will prefer to continue some of the same shopping behaviors they adopted in the last year even after a pandemic. In-store mapping, BOPIS, and speedy customer service are some omnichannel touchpoints that we have seen in the Covid-19 era.
Here's how BOPIS works:
Customers can go through the product catalog on your eCommerce website or the mobile application and place an order. They can choose a date and time slot to pick up their orders. They can then either walk into the store or pick up their order curbside and pick up their order.
Walmart, Target, and Petco have set the bar for omnichannel experiences by providing engaging customer journeys across multiple touchpoints during the pandemic, especially through their BOPIS shopping models.
The Gap, for example, does a great job of outlining its BOPIS instructions on a website landing page.
BOPIS isn't going away because shoppers appreciate the convenience of omnichannel shopping. This eCommerce trend can only be as engaging as your imagination can make it. All that's needed is a great approach that can captivate your audience.
Needless to say, this tech trend is here to stay.
Virtual shopping assistants and AI chatbots
Virtual shopping assistants and AI chatbots use machine learning and natural language processing technology to facilitate conversations with online visitors. They can answer visitor questions, recommend products, and help online shoppers place orders.
Some examples of Virtual Assistants are Siri, Alexa, Cortana & Google Assistant.
This is mainly because people shopping online are increasingly preferring to use chatbots whenever possible. And simultaneously, it is a cheaper option for providing quality customer service for B2B sellers.
The reason for this rapid growth is its easy-to-use interface. Especially during the time of a pandemic where people want to avoid touching unsanitized surfaces, virtual assistants are booming because of their ability to respond to voice commands intelligently.
Typically, AI chatbots are software programs that automate certain tasks. It is a conversational user interface that connects various data sources through an API in order to provide a range of information and services.
As soon as the chatbot receives a question, it will answer the question based on the knowledge database it has available at the time. By integrating into the CMS and CRM systems that power a brand's online presence, it can access customer data and enable personalized experiences.
If a chatbot cannot understand what is being said, it will either deflect the conversation or pass it on to a human operator. A growing technology trend that was popular even before the pandemic has to be the use of AI-powered chatbots integrated into eCommerce stores.
Virtual Assistants however are revolutionizing eCommerce by offering customers
Voice, text, and visual search for products they wish to buy online
Personalized shopping experience and improved engagement
Offers, discounts, promotions, up-selling and cross-selling
Personalized product recommendations across multiple platforms
Instant lookup for product information, order updates, and website assistance
Reminding visitors of an abandoned shopping cart
With the use of artificial intelligence, virtual shopping assistants have become quite effective.
Currently, AI Chatbots can answer up to 80% of routine questions. – IBM
34% of online shoppers even favor chatbots over human customer service representatives. – Statista
Given how quickly most sellers are adopting this technology trend, it's expected that this trend will benefit digital commerce sellers for a long time.
Dropshipping automation
A dropshipping model is a retail fulfillment business model in which a store does not keep the products it sells in stock. Rather, it purchases the goods from a third party –usually a wholesaler or manufacturer – and ships them directly to the customer.
Dropshipping automation involves using eCommerce software to simplify dropshipping processes and eliminate the need for manual control.
It enables you to get the best products live on your site, market your products to customers, and more with little or no human effort.
5 Benefits of using dropshipping automation in eCommerce
With the dropshipping business model, you don't need to buy products in advance. Customers can purchase a product from your store and you get it from a supplier who delivers it.
Finding the right supplier
Automated dropshipping tracks which suppliers can fulfill orders the quickest. If a supplier does not have a product in stock, it routes the order to a supplier who can.
Processing orders
Dropshipping enables businesses to sell directly to customers without involving in the delivery process. The suppliers handle delivery after orders are forwarded.
If they process hundreds of orders per day, automation can help you create a streamlined process with clear workflows. So when an order is placed, it gets assigned to a supplier who will then carry out specific tasks that are required to fulfill that order.
Inventory management and syncing
Sellers can track how many products are currently available, and list products that aren't available in their marketplace. This helps them keep their ratings high and ensures that customers are satisfied with their services.
Inventory syncing allows suppliers to update their inventory stock levels which can be synced with the resellers' product page to show real-time updates and reduce human errors in manual stock updation.
Tracking order shipments
You must track of all the items in an order that are forwarded to a supplier. However, shipping hundreds of items from multiple suppliers can become quite complex.
An automated dropshipping software lets you collect order data automatically with real-time quotations for your product, import product pages, and automate the entire fulfillment process.
The software also pulls the tracking number of each order and sends it directly to the customer, saving you a lot of time. Customers can also check the status of the shipment when they request it.
Saving costs
Spending money on an inventory can be a costly nightmare.
With dropshipping automation you don't have to deal with the cost of creating products, maintaining unsold inventory, and hiring employees to handle inventory.
When you use drop shippers, all the work for maintaining inventory is done for you – and so is the delivery of products!
The rise of automated dropshipping software
Dropshipping fulfillment models are currently used by large eCommerce companies like Amazon, Walmart, Wayfair, and small businesses as well.
While dropshipping has already been here, the use of a dropshipping automation software is a technology trend that has seen a steep rise during the Covid era. It is one that's going to stick around as long as dropshipping is practised in the eCommerce industry.
Visual image search in eCommerce websites
Visual search has become an essential tool to consumers as retail is redefining itself with the pandemic and the rise of the stay-at-home consumer.
Post-Covid-19, customers value an easy shopping experience more than ever. Nobody wants to type, search, scan, and then buy products. They would rather buy things as quickly as possible.
And what could be quicker than clicking a picture on your smartphone?
A visual search tool lets users snap a photo to discover similar products from multiple retailers and sites. In this tech trend, Google Lens and Pinterest are leading the way with simple interfaces and quick functionality.
People do more than 600 million visual searches on Pinterest every month, and that number is growing. – Pinterest
Inspiration becomes a reality with a visual search
In the past, shopping inspiration came from offline sources, such as browsing in-store and attending events. Today, we shop online more, so we use apps like Instagram and Pinterest for visual browsing.
With the click of a button, users can upload a photo of the item they are seeking and find it instantly.
However, it's not just restricted to the online world.
Say, for example, you see someone wearing a style that you like but cannot explain it in words. With Google Lens –which has already been used more than one billion times globally to identify items and offer styling suggestions –you can take a quick photo and find relevant results instantly.
Shopping with Google Lens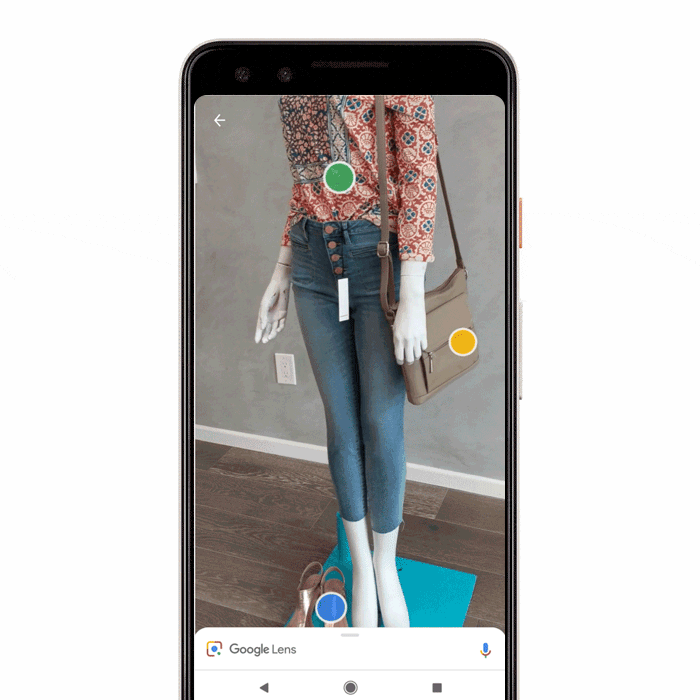 So it is safe to say that this is one of the technology trends that are here to stay for years to come.
Modified in-store shopping experiences
Since the Covid-19 restrictions have been lifted, consumers are looking forward to getting back into brick-and-mortar stores. That doesn't mean that online shopping is being abandoned, but that consumers can enjoy the best of both worlds.
Consumers' expectations post COVID-19 can only be met by changing the in-store shopping experience.
Shoppers want to spend less time in stores
After the pandemic, consumers want to spend less time shopping in stores, but only on certain activities.
The latest data from McKinsey shows that consumers are likely to keep the behaviors they've adopted amid stay-at-home orders, such as more online shopping and fewer mall visits.
This means eCommerce companies must put more emphasis on using technologies that accelerate product discovery like AI-powered smart search and one-step check-out.
At the same time, technologies like virtual fitting rooms and 3D models can increase customer engagement and generate more revenue.
A study conducted by Kearney into consumer expectations around retail technology found that consumers want technology only in certain aspects of in-store shopping.
Consumers are more interested in technology that helps them save time while finding products and checking out than saving time spent sampling products or fitting rooms.
The future of in-store shopping is through technology. These technology trends can facilitate better shopping experiences while also helping sellers boost their revenues.
Modified in-store experiences that integrate new technology that offers customers a safe and convenient shopping experience is the next, next normal..
Adoption of AI-powered eCommerce platforms
With more companies working remotely, the technology infrastructure must be strengthened to support the digital surge. A significant investment in bandwidth expansion, network equipment, and software that leverages cloud services must be made.
Professional communications in remote working scenarios
Companies were forced to operate remotely during the Covid-19 pandemic. The majority of their employees worked from home, making effective communication vital.
A McKinsey Survey showed how rapidly remote work skyrocketed, and the numbers are astonishing. The maximum number of employees working from home was in the:
IT sector (84%)
Business services sector (74%)
Financial services sector (70%)
The use of effective project management software, calendar synching tools, or even a stable internet connection has become essential for remote workers.
In response, many companies are allowing their employees to work from home permanently. That will make communication technology a much-used tool for many years to come.
Digital transformation technologies such as Cloud, Internet-of-Things (IoT), Blockchain (BC), Artificial Intelligence (AI), and Machine Learning (ML), constitute a bulk of the of what is being adopted by organizations as part of their transformation effort.
The Need for AI-powered eCommerce platforms
In 2020, consumers in the U.S. spent over $861.12 billion online, which's 44.0% more than in 2019.
More than $1 in every $5 was spent online in Q2 2020—the highest eCommerce penetration of any quarter or year on record.

– Digital Commerce 360
In 2021, the unprecedented eCommerce demand during the pandemic slowed down in the US, with consumers beginning to spend more offline. However, digital sales continued to be huge for online retailers, sustaining the massive gains made in 2020 and expanding them even more.
Amazon has spoiled us with its AI-powered personalization and now we expect it everywhere.
Let's look at a few questions to analyze what is missing in your online eCommerce store.
Does your eCommerce store show personalized search results?
Does it show relevant product recommendations?
Can you use these product recommendations in your email campaigns?
Is your online store mobile responsive?
Does it have a quick and easy checkout?
Does it use your precious business data to personalize your customer experience?
A single no means there's scope for improvement. Note that personalization is one of the many, many things that an AI can do for eCommerce businesses.
Manual eCommerce processes are time-consuming, inefficient, prone to errors, and lead to customer dissatisfaction. To unlock the true power of an AI-enabled eCommerce platform, it must be fed with high-quality data to make the system more accurate, efficient, and self-driven.
Large enterprises need automation to achieve run smoothly and implement new changes when required. When faced with a pandemic-like situation where the company needs to make radical changes in the workflow, the technical infrastructure needs to adapt and evolve too.
She explains, citing CRM, contact center, and billing systems, among others. The integration was achieved through middleware, APIs, and an enterprise service bus.
An AI-powered eCommerce platform can analyze large volumes of data to make accurate predictions within seconds. This allowed companies to smoothly repair, rethink, and digitally transform their businesses even amid a pandemic.
This is why the adoption of self-learning AI eCommerce platforms is becoming a vastly popular technology trend in the US.
Use of Social Media Insights to create value-based content
Covid-19, as well as stay-at-home orders, have transformed not only our relationships with the internet but also how we utilize it.
Increasingly, social media has become an integral part of many people's lives, as they search for ways to stay connected and entertained.
What are social media insights?
Social media insights are the collection and analysis of audience data that is shared on social networks to make better business decisions. These enable businesses to identify trends relevant to their industry and boost marketing efforts.
As a result of social media insights, marketers can identify the topics and messages that resonate with their target markets by analyzing traffic from social media platforms such as Facebook, LinkedIn, Instagram, and Twitter.
By analyzing comments, hashtags, reviews, status updates, likes, among other ways social media users interact with a brand, marketing can gain insight into how consumers perceive a brand, product, or service.
Social media insights help companies to:
Spot eCommerce trends related to brands and offerings
Understand conversations – what is said and how it is received
Analyze customer sentiment toward products and services
Measure the response to social media and other communications
Identify the most valuable features of a product or service
Identify competitors' strategies and how they work
Analyze the impact of third-party channels and partners
Track the efficiency of marketing teams
Marketers have long understood the importance of brand awareness, even before social media became so widespread.
By partnering with trusted influencers and creating targeted social media posts, they hope to achieve as much awareness and recognition as possible for their brand.
Awareness insights can help you to build brand awareness and cultivate a good reputation on social media.
Engagement is one of the most important insights in social media. It measures things like:
How are your followers engaging with your brand?
And how are they spreading your content?
Moreover, engagement can provide useful insights since it is influenced by:
Timing: During what time of day is your audience most active? and
Content: How does your audience find your content valuable?
A high engagement rate means people like what you're posting.
A conversion is something you define. It can be any action you want your visitors to take. Toward the middle of the funnel, it may be a request for information, and toward the end, it may be a sale.
Conversion insights tell you how effectively your social activities contribute to conversions.
These KPIs cover the last and possibly most crucial stage of the customer journey, and many of them go beyond traditional social media insights.
Here, we measure the happiness of customers, who ultimately become a brand's most important sales force.
A customer journey isn't complete until these social media insights are considered. They tell you how your followers feel and what they think of your brand.
Hootsuite Social Media Analytics dashboard
Since every business is unique, some of these social media brand metrics will be more relevant to you than others.
Make sure that you have a clearly defined goal and choose the right social media metrics to help you achieve it!
Talk about the social media m=insights in detail. create an infographic on the types of data you get from the social platforms or "what you can learn about your customer from Social media analytics" or something similar
Enhancing marketing through social media insights
Using social media insights, you can set and reach performance KPIs and, ultimately, achieve long-term goals. In that way, you can evaluate your competitive position, optimize strategy, and utilize resources most effectively.
With the right insights, you can create a data roadmap that will help you improve your social media marketing efforts.
You can either use software embedded in your social media platforms such as Instagram Insights, Facebook Insights, Twitter Analytics, and so on. Or you can also use software that calculates data from all your platforms in one place such as Google Analytics, Sendible, and Hootsuite.
As long as people continue to use social media to sell and promote their brands, these tech solutions will be here.
Instagram and TikTok Shopping
As traditional shopping experiences were interrupted by lockdowns, social media grew into a vital revenue generator for retailers, brands, and small businesses worldwide.
In 2020, Instagram introduced its Shop feature, which allowed businesses to use pictures, videos, and reels to engage their customers and make sales. And it was a blessing for small business owners. They could sell their products, build engagement and generate a following with quality content during Pandemic.
Over 130 million Instagram users tap on shopping posts monthly, and Instagram Checkout is now available to all US-based businesses and creators, making it one of the best social commerce platforms right now.
Shopping on Sephora's Instagram page (Source)
Instagram's popularity offers B2B companies an opportunity to market their products or services to a targeted audience without investing much money in paid advertising.
Instagram has the highest number of interactions per number of followers of any of the major social networks. It not only promotes engagement through comments, but it also hosts text, photos, and videos on its platform, so your followers don't have to go elsewhere to see the content.
Honestly, the numbers speak for themselves. If you're still not convinced about Instagram shopping, look at this.
83% of Instagram users discover new products and services on the platform. – Meta for Business
200 million users check out at least one business profile each day. – Instagram
A few of the B2B companies using Instagram for better and more intelligent sales are MailChimp, Zendesk, Hootsuite, and General Electric.
TikTok Shopping
TikTok also introduced its shopping feature in December 2021 in partnership with Shopify.
With 1 billion monthly active users in just 3 years and a small portion of every sale going to TikTok, it is no surprise they have entered the eCommerce space.
Unlike Instagram, where users can pay directly within the app, TikTok shopping links users to the Shopify merchant website's checkout page. So this partnership is going to be lucrative for both Shopify and TikTok.
TikTok shopping on the Douyin page in China:
Social media marketing with relatable content, influencers, and personalized engagement has been a transformative factor for eCommerce. Until something else replaces social media (which seems unlikely at this point), this tech trend will flourish.
The AR/VR technology trend is here to stay
The pandemic made it impossible for people to go to a store, check out different products, and buy them in person. Customers wanted to experience the joy of shopping in a physical outlet from the comfort of their homes.
The result? A shocking spike in making wireless and cloud-based VR and AR a possibility.
Augmented and virtual reality spending trends
Virtual reality is no more a far-fetched story. It is here, and there's no denying that.
According to the IDC Worldwide Augmented and Virtual Reality Spending Guide,
Worldwide AR and VR is expected to rise from $12.0 billion in 2020 to $72.8 billion in 2024.
The five-year CAGR for AR/VR spending will be 54%.
China will see the largest spending totals, closely followed by the US.
The commercial use cases that are forecast to receive the largest investments in 2024 are:
Training ($4.1 billion),
Industrial maintenance ($4.1 billion), and
Retail showcasing ($2.7 billion).
In comparison, combined spending of $17.6 billion in 2024 is expected in the following three consumer use cases for AR/VR:
VR gaming,
VR video/feature viewing, and
AR gaming
Businesses are trying to dominate this new and uncharted territory with more eCommerce spending directed towards developing virtual showrooms.
Augmented and virtual reality to spike eCommerce revenue
The ability to purchase online and view virtual products allows retailers to overcome physical challenges and attract new customers.
And so, eCommerce sellers can deploy AR/VR to offer customers store-like experiences for increased user engagement and virtual sales.
A McKinsey study stated that Shopify's conversion rates increased 250% when consumers saw 3D products in augmented reality. This is proof that AR really pushes customers to make big online purchases.
Internet of Things (IoT) had the largest share of the overall digital transformation market in 2019, but AR/VR technology is predicted to have the fastest growth until 2025.
Virtual and augmented reality is definitely one of the top emerging eCommerce technology trends in 2022 that you definitely must look out for.
Rise of the Metaverse
As businesses permit their employees to work remotely and Covid-19 keeps people from meeting in person, it makes sense that the metaverse is the next step in the internet revolution.
So, what's in the Metaverse?
Several technologies are combined in the metaverse, including software, hardware, artificial intelligence, virtual reality, extended reality, augmented reality, and blockchain.
There are already many Metaverses- such as those found in virtual gaming platforms such as The Sandbox and virtual worlds such as Decentraland. Just as websites form part of the worldwide web in 2D, individual metaverses connect and thereby create an expanded, connected metaverse.
Companies like Meta, Microsoft, Accenture, and Minecraft have already invested in this technology and many more are following in their footsteps.
What can we do in the metaverse?
In the metaverse, participants can engage in decentralized virtual economies that are backed by cryptocurrency. And as this eCommerce technology trend grows, the applications of the metaverse will grow with it.
But the things we can do in the metaverse right now include:
3D holographic avatars for communication
With Microsoft Teams, you can use holographic avatars to hold meetings, family reunions, and even virtual gatherings in the metaverse.
Businesses can also use the HoloLens and Microsoft Mesh holographic computing technology to create 3D holographic avatars or even communicate through live holograms.
Microsoft HoloLens
Metaverses allow you to play virtual games and interact with other players. You can also earn real money by playing these games and creating your content and sub-games. For example, they can exchange assets that they've earned for crypto.
Some of the best gaming companies in the metaverse include Decentraland, Sandbox, Epic Games known for Fortnite.
Users can participate in live virtual concerts in the metaverse through a shared virtual space and live chats, making them just as entertaining and emotional as traditional concerts. And artists earn 50% of revenue from both tickets and NFT sales making it a new revenue-generating stream.
Travis Scott's and Ariana Grande's virtual concerts in Fortnite were the beginning of the virtual concerts era for the metaverse.
Ariana Grande's virtual concert in Fortnite
You can buy, sell and invest in digital real estate in the metaverse on platforms like The Sandbox and Decentraland. You could buy a plot of land and build on it, or you could select an existing house that you like and customize it. You could also invite visitors.
There are many platforms with digital real estate potential, such as Minecraft, Roblox, Decentraland, Axie Infinity, Upland, Cryptovoxels, and Somnium Space.
The metaverse is based on blockchain technology, which can be used by businesses to build VR stores and price catalogs in cryptocurrency. Users can buy, sell, and even trade products and assets using NFTs.
Cryptocurrencies and NFTs will drive the economy in the metaverse. The future may bring a single, unified platform that combines all the platforms being built today.
Both B2B and B2C sellers can build virtual showrooms in the Metaverse where customers can interact, engage and customize products. Participants can also buy, sell, and exchange digital assets, such as avatars, virtual clothing, NFTs, event tickets, and much more.
A virtual Gucci handbag sold for $4115 through Gucci's partnership with Roblox, which is considered the closest thing to eCommerce in the metaverse at the moment.
Ganni has developed an immersive store experience to engage its B2B buyers. The experience includes a 360-degree lookbook of each item's fit, style, shape, and texture.
Advertise real-world products in VR
As part of the metaverse, virtual ads and marketing could be used to drive business growth in the real world. Digital billboards outside virtual collaboration spaces, as well as product placement in VR games, could all be used to drive business growth in the metaverse.
Like Nikeland, you could offer complete brand storytelling experiences, with downloadable offerings that reinforce product recall for physical stores.
Working in virtual offices
Metaverse technology and smart glasses enable a new era of truly hybrid interactions as remote work and hybrid work ideas become more common.
In the future, online education and training will provide a unique environment with which new skills can be acquired, making it easier for workers to be more productive. With metaverses, workers will have access to tasks and tools even when they are not at work.
Microsoft and Accenture have already experimented with building virtual workspaces for collaboration, while Facebook (Meta) Horizon provides virtual reality headsets for working remotely.
Accenture's virtual office Nth Floor
Eventually, the metaverse will create something more akin to the cutting-edge digital worlds in science fiction movies and books. It could be used for recruitment, training, meetings, shopping in virtual showrooms, immersive gaming, and much more.
Because of this new metaverse, there will be a new digital economy based on people's interactions with it. This will result in an evolution of eCommerce, which seamlessly integrates in-store and online experiences.
The move toward sustainable eCommerce
Covid-19 has caused many people to reevaluate and reassess their choices when it comes to their health, as well as the health of future generations.
According to a Capgemini survey regarding sustainable selling practices and their impact on consumers:
80% of consumers want to be able to make a difference in saving the planet for future generations.
79% of consumers are changing their purchase preferences based on social responsibility, inclusiveness, or the environmental impact of their purchases.
Organizations are investing in a variety of emerging technologies to boost their sustainability initiatives in the next one to three years:
The ultimate goal here is for organizations to reduce their carbon footprint and help their customers do the same.
Organizations that have implemented sustainable practices have also derived many benefits from the shift to sustainable practices.
The key benefits derived from sustainability initiatives include:
Companies taking the sustainable approach
In the face of the pandemic, Samsung's initiative to turn old phones into baby monitors and other IoT devices is an excellent illustration of how a simple software update can help save the planet.
Deloitte
Dell is incorporating recycling materials into its products, including carbon fiber sourced from the aerospace industry and plastic sourced from the ocean. From 2020 onwards, the company plans to extend the life of its products through machine learning and artificial intelligence.
In the wake of the pandemic, millions of people have gone online to purchase everything from groceries to toilet paper to sweatsuits.
As per Salesforce, digital sales increased 71% in the second quarter of 2020 and 55% in the third quarter. That means more packaging is destined for landfills, incinerators, and the environment.
This is why fashion retailers like Zara, H&M, Asos, etc., are working towards a more sustainable future –including cutting carbon emissions and using recycled textiles since before the pandemic.
Amazon
Similarly, Amazon has led the way toward sustainable eCommerce for the rest of the world.
Amazon plans to achieve net-zero carbon emissions by 2040 and to use 100% renewable energy by 2025.
They have ordered over 100,000 electric delivery vehicles, and plan to invest $100 million in reforestation projects around the world.
Additionally, they have launched the Climate Pledge Fund, a $2 billion fund to back companies whose products and services will help the transition to a low-carbon economy.
You can read their full report here.
Unilever
Unilever is taking similar measures to reduce its use of plastic post the pandemic.
Their mantra is to use:
Less plastic: cutting down the amount we use in the first place
Better plastic: switch to recycled content and ensure our products are recyclable
No plastic: switching to alternatives such as glass, paper, and aluminum in place of new plastic.
6 ways to move towards sustainable eCommerce
Given the growing desire or action of consumers to switch based on sustainability, there is an opportunity to gain market share here for eCommerce sellers. This technology trend is making a global impact, and we sincerely hope that it is here to stay.
Summary
These 15 eCommerce technology trends are just the beginning of an era that is about to dominate eCommerce.
To be a part of it and grow their business online, companies need to invest in an eCommerce platform that can help them do all of this and more with little effort. With ewiz commerce, you get just that.
Ewiz commerce is an AI-powered eCommerce platform that is built and maintained in-house. As a result, you can spend all your time and energy on virtually selling your products, while the company handles most of the heavy lifting.